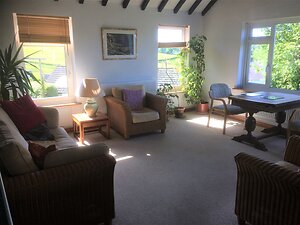 CONTACT US
Address:
Penrhiw
Llanafan
Aberyswyth
SY23 4BA

MAP

Telephone: 01974 261 738
Mobile: 07837 712323

E mail


FINDING OUR VEGETARIAN B n B IN WEST WALES :

Penrhiw is in the village of Llanafan,1 mile/1.5kms off the B4340, approx 10 miles/16 kms south east from Aberystwyth. From the south head via Lampeter, from the east head via Rhayader.

Please see MAP above.

There is a train station in the town and an infrequent daytime bus service (T21) to Tregaron via Llanafan from there.

Morning and evening pick ups/drop offs can normally be arranged to and from the station for a small fee.


IMPORTANT - GOOGLE MAP IS ACCURATE BUT SAT NAV WILL NOT LOCATE THE BnB - locating property :

If you are driving/walking down into the old part of the village,when the road bends, on the right you will see a large blue house, just before the church, turn right up this tiny lane. See the Penrhiw + No Through road sign.
If you are coming up into the village, find the large church. With the church wall on your right, follow it around until you see a large blue house & tiny lane on the left. There is a No Through road sign there + a Penrhiw sign (at night, the lane is opposite a street light).

The BnB accommodation is up this lane, through a farm yard, the last house on the left, approx 150 metres.


Park on the pateo, it's limited and tricky due to proximity of the bridle path.
CYCLISTS :

The Ystwyth Trail takes 80+ mins to cycle from Aberystwyth to the village of Llanafan. Apart from a small section through a wood, it is an easy, flattish cycle trail that runs most of the way parallel to the River Ystwyth. There is a shortish climb into the village. Some cycling experience might be helpful though!

Refreshments can be taken on board half way at Llanilar where there is a small shop and a public house.

Leaving the Trail for Llanafan

Either exit at Trawscoed and approach the village of Llanafan along the wide bridle track behind the Trawscoed Mansion.

OR

Follow the trail/lane for a further 3 miles/5 kms.

The trail then leaves the railway embankment, drops spectacularly down through a forest. Using the bridge over a ford, you meet the B4340. Turn left there, back down over the Ystwyth and, then, look out for the Llanafan sign a mile/1.5 kms down this road. The bnb awaits.

Enjoy, it is a beautiful cycle.